Sarah Palin's Indiana speech: "You can see Russia from Alaska"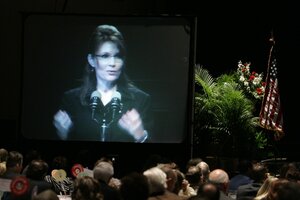 AP
How influential is Sarah Palin?
Judging on sheer media interest alone, she's formidable. What other politician could get live prime time cable news coverage of an entire speech from Indiana right now?
Arguably two. Both from Illinois. One is the President of the United States. The other was just charged with 16 felony counts and could be facing 300 years in prison.
President Obama we see all the time. And if things go right for impeached ex-governor Rod Blagojevich, he'll be starring in a reality TV show in June (we're not joking).
Forefront
Palin, like Obama and Blagojevich, has remained in the national consciousness for months. In fact, since being named John McCain's running mate back in late August she's never left it. Sure, much of the attention since election day has been for things Jerry Springer has made a career on, but she's still mentioned in nearly every conversation as one of the leading Republican contenders for the nation's highest office.
She didn't speak much of 2012 last night at an event in Evansville, Indiana. Although she did hold up a Palin for President bumper sticker that was given to her by a supporter. But it was for her daughter Piper's presidential run in 2044.
Alaska
As it was a right-to-life event, Palin was expectedly well-received. And because it was carried live by some cable networks, the State of Alaska couldn't have had better PR with the governor spending a sizable chunk of her speech talking about the benefits of living in the 49th state.
---