Cheney to Obama: Release more of the torture memos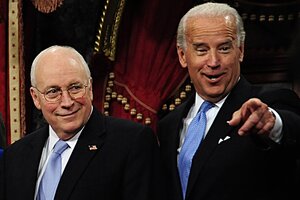 NEWSCOM/FILE
If part of the genie is out of the bottle, release the whole thing.
That's what Vice President Cheney is saying in response to President Obama's decision to release some formerly top secret memos detailing interrogation techniques used by the US against Al Quaeda suspects.
Cheney appeared on Sean Hannity's TV program last night and said that by releasing only the Justice Department memos, the whole story is not being told. And in order to make it an "honest debate" over US policy, other classified documents detailing the success of the controversial techniques should also see the light of day.
Post 9/11
Certainly no one likes to hear the techniques used to gain the intelligence, but Cheney said "in the aftermath of 9/11 with 3,000 dead Americans, 16 acres of downtown New York devastated, a big hole in the Pentagon" and anthrax attacks shortly thereafter, the US had to obtain "good first-rate intelligence" quickly to "prepare and defend against" future threats.
"That's what we did," he said. "And with the intelligence programs, terror surveillance programs, as well as the interrogation program, we set out to collect that type of surveillance."
---