Earth Day: Glenn Beck celebrates by cutting down trees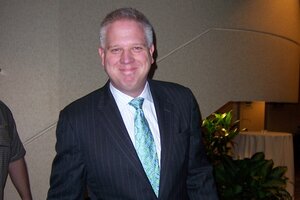 NEWSCOM
Nothing is more romantic than cutting down trees on Earth Day.
That is, if you're Glenn Beck.
Cable TV's hottest property celebrated Earth Day in a Rush Limbaugh-like manner earlier today. He even outdid King Ditto. Limbaugh only honored the coal industry, the gasoline powered automobile, the plastic bag, and the electric light today on his program. (Click here to read that).
Clear-cut
But Beck chopped down a forest. Kinda.
The popular radio and TV host claimed to have a "forest manager" on his radio program who was calling in from the Cleveland area. The caller was tasked with clear-cutting a full acre of woodland for a deer-hunting property owner.
Explained Tim the woodsman, deer are very curious creatures. So if you cut down a bunch of trees, eventually they'll come over to investigate and the property owner can blast them.
Romance
The idea of clear cutting woodland and shooting deer was almost too much for Beck to handle, especially on Earth Day.
"This is not only going to hack off all the environmentalists but all the PETA people, too," he said.
"I need Barry White music," he excitedly announced. "This is almost full-fledged light some candles, this is eroticism."
After the roar of the chainsaw fired up, Beck was told that Tim the forest manager felled two trees specifically for him and his producer.
"I laid down an Aspen tree with Glenn's name on it and an Aspen tree with Stu's name on it," Tim the woodsman announced. "So you are both involved."
Bigger
But Beck's glee was short-lived. The Aspen trees were too puny he said.
"Don't you have like a big huge oak or something?" Beck asked.
---