FOX News - GE's Jeffrey Immelt showdown cheered by conservatives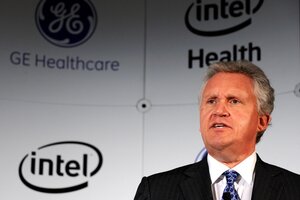 NEWSCOM
The right side of the web is buzzing over a showdown between a FOX News producer who works for Bill O'Reilly and General Electric CEO Jeffrey Immelt.
First some background...
Anyone who's watched Bill O'Reilly's show knows he's not a fan of Immelt. In fact, Immelt is one of O'Reilly's favorite targets. The FOX commentator regularly boasts of his huge ratings advantage over any program at GE-owned MSNBC. And he frequently lampoons Immelt, mentioning yesterday that Forbes just ranked him one of the worst CEOs in America.
O'Reilly swears his distaste for Immelt isn't personal. He perceives Immelt being too chummy with President Obama and alleges the NBC network is a cheerleader for the president's policies.
Issue
The issue that ticked off O'Reilly this week was a comment that actress Janeane Garofalo made recently on Keith Olbermann's show. We told you about the incident here.
---