Top ten US airports reporting wildlife-aircraft collisions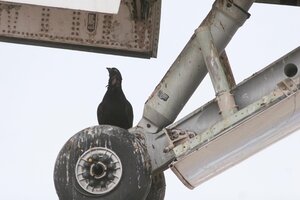 NEWSCOM/FILE
The Federal Aviation Administration made big news yesterday when it released a database that details the number of collisions between wildlife and airplanes.
Although more than 98,000 incidents of aircraft striking birds or other wildlife since January of 1990 are reported, the number of actual collisions is undoubtedly much higher.
Why? The FAA estimates its voluntary reporting system captures only 20 percent of wildlife strikes. For more than a decade, the National Transportation Safety Board has argued for making the reporting of wildlife strikes mandatory. The lack of such a requirement is part of the reason the NTSB didn't want the database released -- it's incomplete.
But after much public pressure, Transportation Secretary Ray LaHood relented and made the data public.
Caution
The FAA cautioned passengers against making too much of it. Comparing airports from the database produces an incomplete picture, the FAA says.
"If a certain airport is very diligent in reporting these kinds of events, its diligence could make it appear as if it has more bird strikes than an airport that isn't as diligent," a spokesman told the Associated Press.
Top ten
Noting that such a list is inherently flawed, the following airports have reported the highest numbers of wildlife strikes since 1990.
---