Obama's teleprompter commits mutiny during major science speech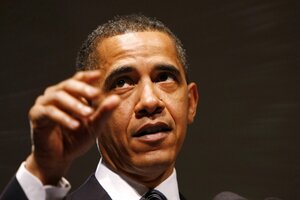 AP
Just when the teleprompter gets out of the news...
Maybe President Obama's teleprompter wanted more coverage. After all, last month it was getting a ton of media attention. Especially when the teleprompter was retired temporarily in favor of a giant IMAX-type screen at the president's last press conference.
Today, the teleprompter broke the moratorium and got back in the news cycle.
Big investment
The president was delivering a speech at the National Academy of Sciences annual meeting. In the remarks, Obama promised a significant increase in spending on science research.
"I am here today to set this goal: We will devote more than 3% of our GDP to research and development," the president said.
"We will not just meet, but we will exceed the level achieved at the height of the space race."
Future
What will the investment in science mean? Cool stuff.
Obama predicted:
1. Solar cells as cheap as paint.
2. Green buildings that produce all the energy they consume.
3. Learning software as effective as a personal tutor.
4. Prosthetics so advanced that an amputee could play the piano again.
Costly
What about people who say we can't afford it? After all, the president proposes to double the budgets of the National Science Foundation and the National Institute of Standards and Technology.
---