Obama on Air Force One debacle: Mistake, won't happen again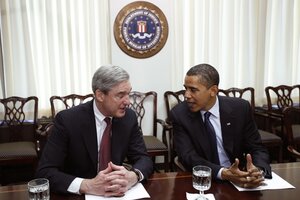 AP
President Obama couldn't avoid a question on the Air Force One jet involved in a photo op yesterday that caused mass panic in New York City.
The president traveled to FBI headquarters this morning and allowed the press one question at the start of his meeting with FBI director Robert Mueller. According to the pool report, the president was asked for his reaction regarding the incident.
"It was a mistake, as was stated ... and it will not happen again," Obama said.
McCain
His former rival, Senator John McCain is apparently zeroing in on the incident as well sending out a Tweet earlier today wondering, "Air Force One flight over NYC, how much $ did it cost the taxpayers?"
"Stay tuned..." he said.
Costs
ABC News White House correspondent Jake Tapper produced a March 2006 document detailing the costs of "Presidential Political Travel". That report showed "flight operating costs are $56,518 per hour for Air Force One."
---