Biden manages to anger everyone over bad flu advice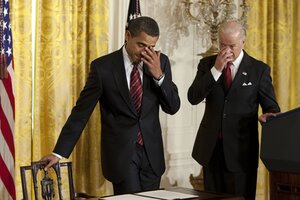 NEWSCOM/FILE
It could be Vice President Biden's biggest gaffe in ..... weeks!
White House Press Secretary Robert Gibbs turned into a stand-up comedian today when tap dancing around Joe Biden's controversial remarks this morning on the flu.
If you didn't hear about Biden's appearance on the Today Show, he basically said that in order to remain safe from the flu, people should avoid cars, planes, classrooms, trains, subways, and confined spaces.
Where should they go? Biden said the "middle of a field" was pretty safe. (You can read more about it here).
Press briefing
When asked about his remarks, Gibbs responded, "What the vice president meant to say was ... if you feel sick, if you exhibit flu-like symptoms ... you should take precautions and you should limit your travel.."
Not good enough for ABC's Jake Tapper, who followed up with a real question instead of asking something silly like what the vice president was enchanted with.
"With all due respect, and I sympathize with you trying to explain the vice president's comments, that's not even remotely close to what he said," Tapper said.
"I understand what he said, and I'm telling you what he meant to say," Gibbs said to an avalanche of laughter.
Of course, only moments after Biden got off the set of the Today Show, his press office -- well versed in this routine -- sent out a statement clarifying what he meant. You can read about that here.
---