FEMA removes 9/11 coloring book for children from website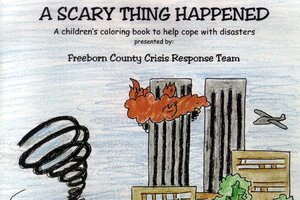 Now, from the same guys that brought you the Katrina rescue effort..... comes the 9/11 coloring book.
Joking? Sadly, no.
Ever get the feeling that that Ron Paul guy might've been on to something? Paul, the libertarian-like congressman from Texas, isn't a big believer in government. He thinks for the most part the government screws things up.
Just this week, he could point to the Air Force One photo op idea and now there's this latest gem from FEMA.
Scary
A children's coloring book called "A Scary Thing Happened" which shows a drawing of the Twin Towers ablaze with an airplane heading for them was removed from its website last week.
The idea behind the downloadable book was to help children cope with disasters, says the organization responsible for it. So on page 12, there are three images of the burning twin towers for children to color.
Heckuva
It's not as though the new FEMA team came up with the idea just this year. You might guess. It was put up on the site under Mike Brown's watch -- 2003.
And the organization that developed it -- Minnesota's Freeborn County Crisis Response Team -- still believes in it.
"I stand firm that it was a very well thought-out and useful resource for kids," Olmsted told FOXNews.com. "But it's obviously being misinterpreted by a lot of people."
---