Palin joins old pal McCain to rescue GOP from extinction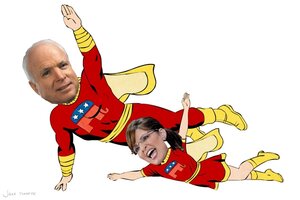 Jake Turcotte
Hey, they were so successful last time, let's bring 'em back together.
Sarah Palin is joining John McCain in that new Republican resurrection group called the National Council for a New America. And so far, her personal office and her political action committee haven't issued contradicting statements about her involvement.
If this holds, it would be precedent-setting coordination between the two offices. In the past, the two organizations have been as out of sync as Joe Biden and President Obama were on giving flu advice.
If it does pan out, she'll be a part of the newly christened organization charged with breathing life into the flat-lining party.
"[She] looks forward to doing all she can to bring about positive change many desire and deserve, across Alaska and our great nation, through this National Council for a New America and others," a spokeswoman from SarahPAC said in an email to Politico.
Snub-hub
---