Michelle Obama's favorite thing? Sesame Street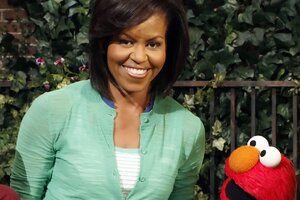 Sesame Street photo
The greatest show on TV? Sesame Street.
Who doesn't love that green guy who lives in a garbage can? Or the blue hairball who almost explodes when he's offered a cookie. Sure, that giant yellow bird is annoying and would it really surprise you if Grover ended up on the FBI's most-wanted list?
Despite those two, it might just be the best television program ever made. And First Lady Michelle Obama loves it too.
Count
You would think with all the exciting things she's done so far as the second-in-command (Joe's been demoted), that an appearance on Sesame Street might just be something fun or one of the highlights.
Nope. To Michelle, it's -- as the Count would say -- "Number one, HA HA HA HA HA HA."
It even topped speaking at the United Nations. She was there yesterday and couldn't get over it.
"I'm thrilled to be here, but I was just at Sesame Street, I'm sorry," she said to laughter.
---