Why cover Obama's hamburger lunch? People like it.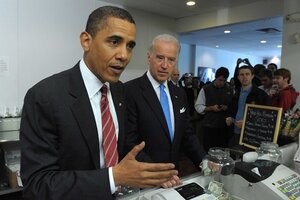 NEWSCOM
Every time there's a human interest story about the president or the first lady, there's always criticism from "serious journalists" and "serious citizens" who can't understand why a news outlet would devote air time or pixel space to something they consider meaningless.
Take yesterday's hamburger run by President Obama and Vice President Biden. It got a lot of attention. As NBC's Sara K. Smith writes, "This event was so exciting and significant that every major media outlet covered it."
That's true. We did. Monitor reporter Linda Feldmann was on pool duty. She blogged about it, and it was the second most read story on the web site yesterday. You can read it here.
Snoot
Some of our readers (who curiously clicked to read the story) said it was not newsworthy:
Cogito wrote, "This is news??? Good, grief…"
Nani offered, "Wow…a free lunch for biased press coverage."
But most enjoyed the article.
Smith sarcastically said the hamburger run was the "most important event in human history since the invention of fire." And she wondered why such events are covered.
---
Follow Stories Like This
Get the Monitor stories you care about delivered to your inbox.