Statue of Liberty's crown opens (hopefully Air Force One won't take photos)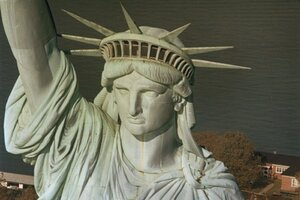 AP/FILE
The Obama administration is making news with the State of Liberty again.
But thankfully this time they're not scaring thousands of New Yorkers like they did last week with that ill-conceived photo op.
Instead, goofy NBC weatherman Al Roker was on top of the National Monument this morning with Interior Secretary Ken Salazar to announce the crown would be opened to the public once again.
Crown is open
"On the Fourth of July, we will open up the crown of the Statue of Liberty here in New York and New Jersey to the entire people of America in a way that we'll be able to manage the crowds that come into this place," Salazar told NBC Today Show host Matt Lauer from inside Lady Liberty's head.
Salazar said that initially 30 visitors per hour will be allowed to trek up the 168-step spiral staircase to get to the top of the statue , but that number will increase over time.
"We'll follow that up with more rehab and ultimately increase the number who can come up here," Salazar said noting that the statue will be closed again after two years for a more extensive renovation.
After that work is done, Salazar said more than 100,000 per year will be able to make it to the top.
Safety
---