Gingrich still doesn't want Obama to speak at Notre Dame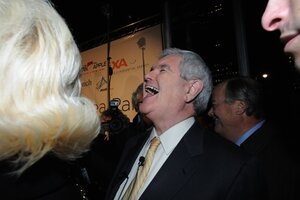 NEWSCOM/FILE
Nope, he hasn't changed his mind.
Newt Gingrich still doesn't like the idea of President Obama delivering the commencement address and receiving an honorary degree from Notre Dame next weekend.
Gingrich, a recent convert to Catholicism, was asked about the controversy this morning on FOX News Sunday.
"I think that to the degree that Notre Dame still thinks of itself as a Catholic institution, it raises real questions," Gingrich said.
"One, it invites somebody who, as a state senator, voted to protect the right of abortionists to kill babies ... who were still alive after the abortion," he continued. "And I think the president's position has been the most radical pro-abortion of any American president. So I think there is a legitimate question there."
Tweet
The former House Speaker originally voiced his opposition on Twitter back in March.
"It is sad to see Notre Dame invite President Obama to give the commencement address since his policies are so anti catholic values," he tweeted.
Poll
Despite many high-profile Catholics opposing the appearance, most American Catholics are supportive. A recent Pew Research Center poll found that 54 percent of those polled are OK with it.
"These findings are consistent with Catholics' overall views of Obama: A majority voted for him in the 2008 presidential election and express approval of his performance in office thus far,'' Pew reports. "The new findings are also consistent with Catholics' views on abortion and embryonic stem cell research, with pluralities in the poll expressing support for each.''
---