GOP is the party of Fred Flintstone say Democrats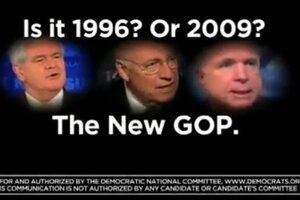 YOUTUBE
Anytime that The Who's "Won't Get Fooled Again" can be referenced, it should.
So we lead with that this morning as we discuss the Democratic National Committee's new ad that attempts to portray the Republican Party as the party of dinosaurs.
To do that, they rolled out footage of some of the GOP's Grand Old People: Dick Cheney, Newt Gingrich, and John McCain. It wasn't that difficult to do as all three appeared on the Sunday Morning News shows yesterday.
That's the point the DNC is making: No New Ideas. No New People.
Or as the ad says, "The New GOP. Same As The Old GOP." (This is The Who reference, for the sad few who aren't fans).
Cheney
It was a given that the DNC would try to make hay out of Cheney's appearance on Face the Nation yesterday. The vice president, unlike some in the GOP, doesn't waiver and stays consistent in articulating what he believes -- no matter if it's the popular thing to say or not.
So although the big sound bite of the day was Cheney's remarks on the Rush Limbaugh - Colin Powell tiff, he also said that Republicans can "win elections when we have good, solid conservative principles to run upon and base our policies on those principles."
Same old
Those principles are outdated according to the DNC.
---