Florida's Crist to run for US Senate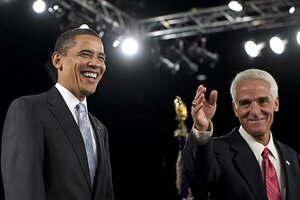 NEWSCOM/FILE
Though not nearly as scintillating as Miss California saying that she and President Obama share the same views on same-sex marriage, there are other political stories brewing today.
Like Florida Governor Charlie Crist announcing he'll forego running for a second term as the state's chief executive in favor of opting to run in the US Senate race.
Crist-crossed
The seat, currently occupied by outgoing Republican Senator Mel Martinez, is up for grabs, and Crist may represent the GOP's best chance for keeping it red. Even if Crist crossed party lines last February to endorse President Obama's stimulus package.
It's all about working together, Crist says
"Here in Florida, we've shown that when we put people first and work together much can be accomplished, and I intend to bring that same approach to Washington," Crist said in a statement announcing his run.
Anti-Crist
But that approach doesn't work according to his primary opponent, House Speaker Marco Rubio -- who you could call the anti-Crist. (We're here all week, try the veal).
Only hours after Crist's announcement, Rubio's campaign released a web ad which previews one of the ways he'll try to differentiate himself from the popular governor.
---