Obama and Miss California aligned on same-sex marriage?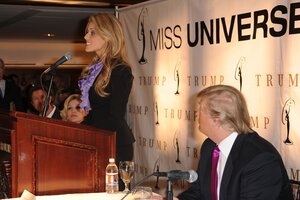 NEWSCOM
If President Obama's position on gay marriage is shifting, someone better tell White House Press Secretary Robert Gibbs.
During the afternoon press briefing, ABC's Jake Tapper remarked that President Obama "opposed same-sex marriage but supports giving same-sex couples the same rights as married couples."
"With benefits," Gibbs said without objecting to Tapper's statement.
Same
Many say Obama's position on same-sex marriage is the same as the one Miss California, Carrie Prejean, took a lot of heat for.
"I think that I believe that a marriage should be between a man and a woman. No offense to anybody out there but that's how I was raised and that's how I think it should be between a man and a woman," she said at the Miss USA pageant last month.
What's the difference between her statement and the president's? Nothing according to Prejean and impressario Donald Trump.
"It's the same answer that the president of the United States gave," Trump said at a press conference on Tuesday to announce Prejean would keep her title. "She gave an honorable answer. She gave an answer from her heart."
---