Abortion debate: Gallup says more Americans pro-life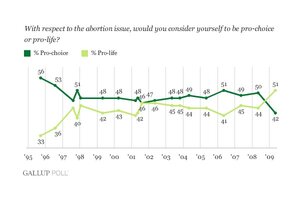 GALLUP
President Obama's not the only one who's doing a lot of flipping and flopping lately. Apparently the American people are too.
Except we don't have a Robert Gibbs to stand up in front of a camera to explain that there's no change here -- it's what we've been saying all along.
New poll
For the first time since 1995, most Americans say they're pro-life. A new Gallup poll reveals that 51 percent of Americans identify themselves as such while 42 percent label themselves pro-choice.
These numbers reflect a big change from last year when 50 percent said they supported abortion rights, while 44 percent said they did not.
Respondents were asked, "With respect to the abortion issue, would you consider yourself to be pro-choice or pro-life?"
Circumstances
Although more individuals may be labeling themselves as pro-life, the survey also found that 53 percent said abortion should be legal under certain circumstances.
About an equal percentage balance out the wings with 23 percent responding that abortion should be illegal in all circumstances and 22 percent say it should be legal under any circumstances.
The GOP is responsible for most of the change, Gallup explains. The ranks of pro-life Republicans increased by 10 points over the last year, from 60 percent to 70 percent. While Democrats have remained constant.
Why the change?
Gallup explains it this way
---