ACLU to Obama: You can't put lipstick on a pig!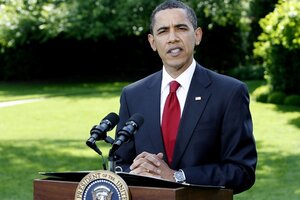 NEWSCOM
Whoa.
And we say this in a slow, deliberate way – like Keanu Reeves. On a beach. With a surfboard. Whooooaaaa....
John McCain praising the president while the ACLU lambastes him? It's not a full moon or anything. That was a week ago. It's just what happens when you engage in two perfectly executed flip-flops in three days.
Flip
Of course, the first flip happened Wednesday when the president announced he had changed his mind on releasing more abused detainee photos. The president said releasing them  wouldn't "add any additional benefit," and he ordered government lawyers to fight the release.
The ACLU disagreed. The benefit is transparency. And by not releasing them, the Obama administration "will betray not only its promises to the American people, but its commitment to this nation's most fundamental principles."
Flop
The second flip happened today when the White House announced that Bush-era military tribunals -- put on hold in January -- would be resuscitated. The official line is that Obama is a longtime supporter of military commissions. All they need are appropriate "reforms."
The ACLU said you can't reform it. "These military commissions are inherently illegitimate, unconstitutional, and incapable of delivering outcomes we can trust," said Anthony Romero, executive director of the ACLU.
---