A "plagiarized" account of Maureen Dowd's plagiarism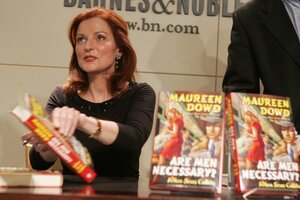 NEWSCOM/FILE
To better illustrate a point or a thought when writing a column, article, or blog it goes without saying that it's commonplace and perfectly acceptable to quote someone or some source.
Almost 100 percent of the time, for example, someone else's words will be a big improvement over anything that we can muster up on this blog.
So that's how we'll tell the story of New York Times columnist Maureen Dowd's attribution malfunction (but just to be wacky, we'll attribute the sources).
Caution
It is an axiom of the new digital media age that high-profile political columnists should generally avoid copying other people's words without attribution. Nobody wants to have the p-word hung around their necks.
It is a further axiom of the age that if a columnist is to borrow a paragraph unattributed, then at least they should ensure it doesn't belong to Josh Marshall. The man behind Talking Points Memo is one of the sharpest, most deadly bloggers around. [The Guardian]
Oops
Maureen Dowd, whose barbed-worded columns for The New York Times never have lacked for original thoughts about the Bush administration, has admitted to some borrowed words. She reports that it was inadvertent. [The Swamp]
---