Biden speaks at Wake Forest - does not disclose nuclear launch codes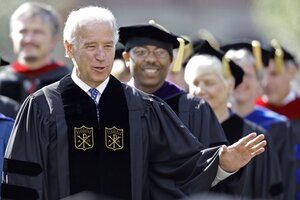 NEWSCOM
Good news for Vice President Biden's office! The Veep successfully delivered the commencement address at Wake Forest University without disclosing top secret information.
The problem is, he may have done that a few weeks ago.
Newsweek is reporting that Biden may have revealed where former Vice President Cheney's undisclosed location was.
After the 9/11 attacks, Cheney's whereabouts were frequently unknown. And that was on purpose. White House Press Secretary Ari Fleischer coined the phrase "undisclosed location" and it stuck. And no one, save a few with the highest of clearances, knew where it was located.
Dinner
Enter Joe Biden. Known for his entertaining conversational skills, the vice president apparently thought the topic might be interesting. So while chatting at the Gridiron Dinner last March, he brought it up.
He reportedly told his companions that the secret location was a "bunker-like room" at the the Naval Observatory. This is where all the vice presidents have lived (not together) since 1974.
---