Limbaugh appoints Colin Powell head of GOP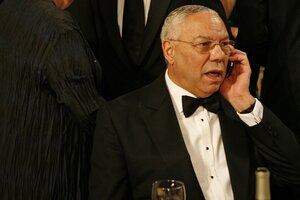 NEWSCOM
Normally Colin Powell doesn't get involved in political scuffles.
That's not to say that political discourse is a bad thing. It can be wildly entertaining. But that's not his M.O.
The general dipped his toe into the pond last night. He didn't go off and pull a Jeanine Garofalo or anything. His criticism was mild. It's hard to even call it criticism.
The Boston Globe reports Powell was speaking to a well-heeled crowd last night (including Patriots quarterback Tom Brady) when he mentioned the talk show host.
"Rush Limbaugh says, 'Get out of the Republican Party.' Dick Cheney says, 'He's already out.' I may be out of their version of the Republican Party, but there's another version of the Republican Party waiting to emerge once again," Powell told the crowd.
Limbaugh responds
What happens next is entirely predictable. Not foolproof, but predictable. Limbaugh fights back. Although he did not engage in a war of words with comedian Wanda Sykes when she called him out during the White House Correspondents Dinner.
But had no problem in lighting Powell up.
---