RNC drops resolution to call Democrats "Socialists"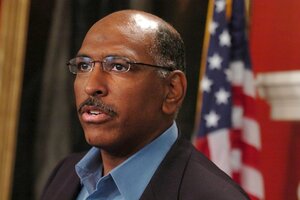 NEWSCOM/FILE
No one was talking about anything else.
The Republicans were meeting for what? The only thing being reported was that powerless resolution proposed by members of the RNC that would -- if passed -- formally ask the Democratic party to change its name to the Democrat Socialist Party.
No matter how hard Michael Steele -- the sole de facto leader of the Republican Party* -- tried to get his message out, interviewers on even Fox News were focused on one thing: the resolution.
As we mentioned yesterday, even after Steele told Fox and Friends hosts that the GOP's strategy wasn't to rebrand the Democrats, he faced two more questions on the resolution, all the while the Las Vegas-like text box on the TV screen was flashing: "RNC rebrands the Dems: The Democrat Socialist Party."
There was no way around it. That was the news.
Whew
Today. Peace. They found a way to kill it. Thereby finally getting the resolution out of the news flow. Had it been introduced and passed, Steele would have been further marginalized and talk of the resolution would have lasted all summer.
---