Nope, Dick Cheney didn't change his mind...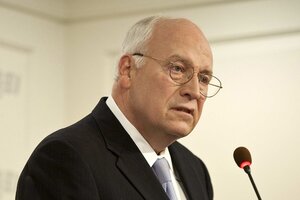 JOSHUA ROBERTS/REUTERS
Well, if the Obama White House tried to run out the clock so the networks wouldn't cover Dick Cheney's speech, it didn't work.
The networks waited. Cheney waited. And he delivered his speech.
And politics aside -- support him or not -- the vice president did what no other Republican has been able to do this year: break through the noise.
No apology
Cheney is clearly a Republican who doesn't flinch -- at a time when his party is filled with grandees who are apologizing, equivocating, and saying things like "we need to find ourselves."
On dealing with terror suspects, Cheney couldn't have been more clear: "In top secret meetings about enhanced interrogations, I made my own beliefs clear. I was and remain a strong proponent of our enhanced interrogation program."
Contrast that with GOP chief Michael Steele. While appearing on Meet the Press on Sunday, he was asked if he thought enhanced interrogation techniques were torture. "I have a personal opinion ... but that's not appropriate to share here," he said.
Indifferent
Cheney doesn't hesitate when asked for his opinion. And he doesn't care how his opinion is received.
As former Bush White House Communications Director Nicolle Wallace said on the Today Show this morning, "I think we've established his complete magnificent indifference to his poll numbers. He doesn't care if people approve of him politically or personally."
---