Crying 5-year-olds booted from White House (Biden not involved)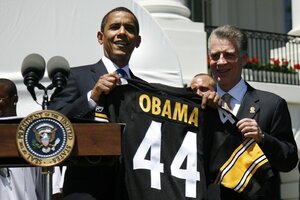 JASON REED/REUTERS
It's not because the kindergartners were demanding the release of Dick Cheney's memos or anything. It's just that they were late. So they were told to hit the road.
It's a weighty and consequential story to ponder over this Memorial Day weekend. And if this rises to the level of an official gaffe, let's make one thing clear: Joe Biden was out of town.
More than 100 five-year-olds from Conway Elementary School in Stafford, Virginia, had a school field trip planned to the White House yesterday. But it was abruptly canceled.
And just like the Obama-Cheney feud, there are two sides to the story. Both will agree that the kids arrived late. The White House is saying that the appointment was scheduled for 9:30. Parents say they were told to arrive at 10:15.
Either way when the school buses arrived at 10:25, they were denied entry.
Leave
"The person who headed this White House trip up came out and said, 'I'm sorry, the White House tour's off.' There were a lot of crying kids," one parent said to NBC's Anne Reynolds.
The parents were reportedly told that staffers were preparing for the president's event with the Pittsburgh Steelers and there wasn't enough time to accommodate the tour.
---