Gingrich on Sotomayor: "Latina woman racist should also withdraw"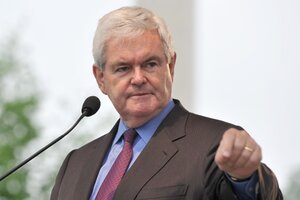 NEWSCOM
Not mincing words. And with Twitter, there really isn't space to. You have only 140 characters.
So Newt Gingrich took full advantage of the popular online messaging medium and let everyone know that Obama Supreme Court nominee Sonia Sotomayor (or "Maria" to Mike Huckabee) should step aside.
"White man racist nominee would be forced to withdraw. Latina woman racist should also withdraw," he said.
O'Connor
He was reacting to a line in a speech given by Sotomayor eight years ago where she gave her take on Sandra Day O'Connor's position that "a wise old man and wise old woman will reach the same conclusion in deciding cases."
Sotomayor disagreed with O'Connor's conclusion stating: "I would hope that a wise Latina woman with the richness of her experiences would more often than not reach a better conclusion than a white male who hasn't lived that life."
Racism
That's straight-up racism in the minds of many. Their argument is simple. All you have to do is reverse it.
"Imagine a judicial nominee said 'my experience as a white man makes me better than a latina woman,' Gingrich said in an earlier tweet. "New racism is no better than old racism."
---