Nancy Reagan visits President Obama (no seance jokes this time)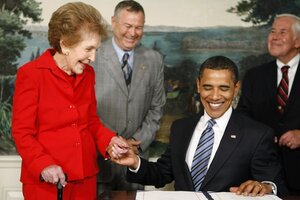 KEVIN LAMARQUE / REUTERS
She was right literally and figuratively.
Former First Lady Nancy Reagan was back at the White House today and while President Obama was signing a bill to establish a Commission honoring her late husband's 100th birthday, she remarked, "Oh, you're a lefty..."
No joke
Obama could have seized the moment and made a political joke of some sort (you know Biden couldn't have resisted). But seeing that the last time one of his attempts at humor intersected with Nancy Reagan it was a full-on disaster, he stayed free from any jocularity.
Not that the ceremony needed it. Instead it was a sweet moment where the president had nothing but nice things to say about 40th Commander-in-Chief.
"President Reagan understood that while there are often strong disagreements between parties and adversaries. .. it is important to keep in mind all that we share. For all of the deepest divides that exist in America the bonds that bring us together are that much stronger," Obama said.
"We may see the world differently but we must never stop seeing one another as fellow Americans and as patriots who want what is best for the country we love," he added.
Birthday
The Commission is charged with determining how to best mark the 100th anniversary of President Reagan's birth. Although still two years away, it takes time to determine if a postage stamp, a commemorative coin or convening a joint session of Congress is the optimum way to celebrate the late president's centennial.
---