Panetta versus Cheney? Media loses its collective minds...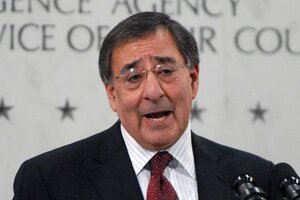 NEWSCOM
Blah, blah, blah....
Does Vice President Cheney really want another attack on the US?
A stupid statement? Yes. But that's not stopping those in the media from running with it and losing their collective minds this afternoon.
Frenzy
Comments made by CIA Director Leon Panetta to The New Yorker have created so much media-stoked drama that reporters are breathlessly hyping an imaginary battle between Panetta and Cheney.
Sure, on its face without any examination or thinking, Panetta's statements could look controversial. It could -- again without the use of thought -- could appear as though Panetta believes the former vice president is at home with a giant foam "we're number one" finger on his hand cheering for the Taliban.
They also beg for context. Beg. Like Panetta was talking to the New Yorker's reporter right after President Obama and Vice President Cheney gave back-to-back speeches on national security last month. (By the way, that context was provided in the full article).
Disagree
It would surprise no one that the Obama administration doesn't agree with the former vice president's conclusions. After all, Cheney believes that the US is less safe under the new administration and has been very candid with his criticism.
---