In amazing show of athleticism, Obama kills housefly in mid-air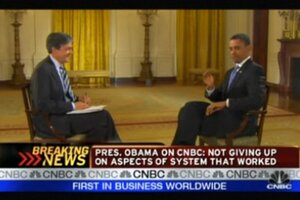 CNBC screenshot
UPDATE:  PETA has responded to President Obama's killing of a fly.  Click here to read the shocking details...
Who says President Obama is weak on defense?
It was almost like watching that scene from Karate Kid when Mr. Miyagi showed Daniel how to kill a fly with his chopsticks. Except it was the White House version of it. And no less dramatic.
President Obama played the part of the seasoned Sensei while CNBC's John Harwood was the hapless kid played by Ralph Macchio. Yes, it was high drama in the East Room today.
PETA has yet to issue a statement, but we couldn't sit on this pivotal story waiting for one. We just had to go with it.
Yawn
Obama was speaking to Harwood about the administration's efforts to improve financial regulation. Normally that conversation would be about as exciting as watching paint dry. Actually watching paint dry would probably be more interesting.
Thankfully a housefly wouldn't leave the president alone disrupting the interview numerous times. That's when Obama's razor sharp reflexes kicked in. (see video below)
Presidential skill
In a move only rivaled by President Bush's ducking of two flying Iraqi shoes back in December, President Obama nailed the fly in mid-air sending the insect to an early but much deserved grave.
---