L.A. in economic shambles but can spend $1 million for a parade?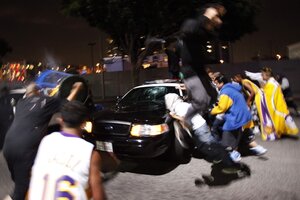 PHILIP SCOTT ANDREWS/AP
It seems stunning that the conversation even has to happen.
The State of California is in economic ruins. A disaster. An economic Chernobyl. Yet the city of Los Angeles has $1 million on hand to pay for a basketball parade?
A business would laugh at such a thought. Businesses have to make money to survive. Only in government can such a conversation actually occur. And guess what? LA's top politician didn't see a problem with it.
$1 million
After LA decimated Orlando in game five of the NBA finals to win the championship, Mayor Antonio Villaraigosa endorsed the idea of spending $1 million in taxpayer dollars to fund half of the parade. After all, the Lakers are the 2009 NBA champions. Why wouldn't the city pay for the parade?
Well, maybe it's the 11 percent unemployment rate. Or the pay cuts that city employees are staring at. Perhaps it's the massive layoffs that could happen in the near future. Or the $529 million deficit. Things like that.
The Five Oh
These small items aren't lost on the Los Angeles Police Protective League. The president of the organization, Paul Weber, doesn't get Villaraigosa's gung-ho approach to spending city money on a parade.
---
Follow Stories Like This
Get the Monitor stories you care about delivered to your inbox.