Palin accepts Letterman apology for joke about her 14 year old daughter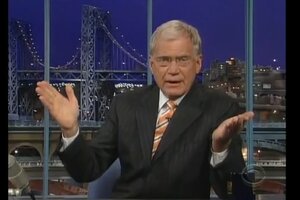 YOUTUBE screenshot
Score one for Alaska Governor Sarah Palin.
Refusing to back down from her criticism of David Letterman for his joke about her 14-year-old daughter, Palin pushed and pushed the issue and Letterman finally caved. It's not something Letterman ever does. But Palin delivered on her longstanding warning that if her children are attacked, she'd fight like a grizzly bear. And the grizzly bear won (see video below).
"I was watching the Jim Lehrer 'Newshour,'" Letterman explained last night. "This commentator, the columnist Mark Shields, was talking about how I had made this indefensible joke about the 14-year-old girl, and I thought, 'Oh, boy, now I'm beginning to understand what the problem is here. It's the perception rather than the intent.'
"It doesn't make any difference what my intent was, it's the perception," he said. "And as they say about jokes, if you have to explain the joke, it's not a very good joke."
He later said, "So I would like to apologize, especially to the two daughters involved, Bristol and Willow, and also to the governor and her family and everybody else who was outraged by the joke. I'm sorry about it, and I'll try to do better in the future."
Accepted
Also delivering on her word that she would accept an apology, she did. Quickly. Without hesitation.
"Of course it's accepted on behalf of young women, like my daughters, who hope men who 'joke' about public displays of sexual exploitation of girls will soon evolve," Palin said in a statement.
"Letterman certainly has the right to 'joke' about whatever he wants to, and thankfully we have the right to express our reaction. And this is all thanks to our U.S. military women and men putting their lives on the line for us to secure America's right to free speech - in this case, may that right be used to promote equality and respect."
---
Follow Stories Like This
Get the Monitor stories you care about delivered to your inbox.