Senator Ensign getting pummeled for affair - easy target for critics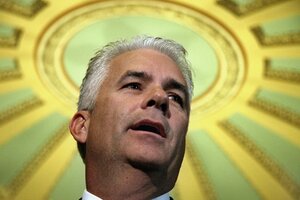 NEWSCOM/FILE
Is disgraced Nevada Senator John Ensign receiving more flack than most politicians who have admitted extramarital affairs?
It's hard to measure these things. Although there are plenty of case studies on which to build an argument. If he is receiving more attention, it's because of his associations and his pronouncements.
He's a real easy target for the opposition. Not just the partisan opposition, but those who disagree with him on who should have the right to marry.
Ensign believes that only, in the words of former Miss California, "opposite marriages" should be allowed. He's a strident supporter of a constitutional amendment which would ban same-sex marriage.
No love
So it's not all that surprising that in light of his admitted failure in honoring the marriage contract, he's not getting a lot of support from those he doesn't deem worthy to wed.
Check out Ronnie Polaneczky's column in the Philadelphia Daily News this morning. Pulling no punches, she offers Ensign (or in her words, "this blow-dried hypocrite") some marital advice from the mouths of couples who would be on the outside looking in if that constitutional amendment had been passed.
---