Obama to attend World Cup soccer game? Not so fast...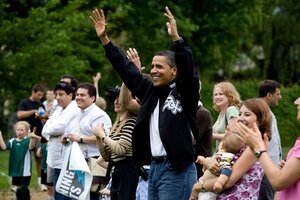 NEWSCOM
It happens almost every time an invitation is sent to the President of the United States. The event organizer or somebody who knows the event organizer claims that the president accepted the invitation (regardless of confirmation).
Like the latest supposed acceptance: President Obama attending the World Cup soccer tournament in South Africa next year. Some news agencies are reporting that he's accepted the invite.
The international head soccer guy -- FIFA chief Joseph Blatter -- says Obama's going.
"He accepted," Blatter told a small gathering of reporters in Johannesburg, South Africa. "But you know that heads of state are extremely busy. Hopefully his schedule will allow him to attend."
Don't book your tickets to sit alongside the president just yet. The confirmation doesn't pass the smell test. It's not because Obama dislikes soccer or anything.
---