Live blogging Mark Sanford's weird press conference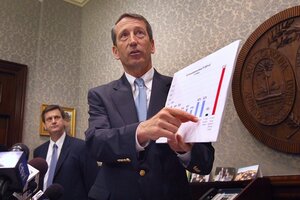 NEWSCOM
Odd.
Yesterday, President Obama said his smoking habit was an "interesting human interest story." Sorry, Mr. President. It doesn't hold a candle to South Carolina Governor Mark Sanford's Appalachian Trail Argentina trip. This is a real human interest story.
Republican or Democrat, supporter or opponent, Sanford's disappearing act is fascinating political theater. Weird? You bet. Fascinating? Of course. Inexplicable? Well maybe. Let's see what he says.
Sanford is holding a press conference this afternoon at 2:30pm to provide us some answers -- maybe. We're going to try live blogging it. We live blogged Rod Blagojevich's guest DJ stint a couple months ago and pulled it off. We'll try again today.
In the meantime, you can click here to read up on the latest. Thar's impeachment rumblings down thar in South Carolina. The Southern Political report writes, "...that some members of the South Carolina legislature are considering an effort to impeach Gov. Mark Sanford after revelations that he spent nearly a week in Argentina without disclosing where he was or providing means of communication."
---