Robert Gibbs gets dunked by reporters (does not drown)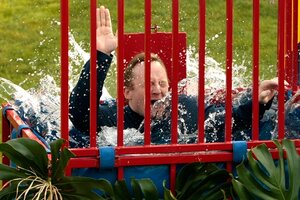 NEWSCOM
Who wouldn't want to dunk Robert Gibbs?
Reporters had their shot last night at putting President Obama's press secretary underwater. No, this wasn't some weird Keith Olbermann/Sean Hannity waterboarding challenge or anything like that. It was Gibbs volunteering to sit in a dunk tank on the South Lawn at the White House during an Hawaiian luau.
Come to think of it, this sounds pretty weird. Actually it was harmless fun. President Obama held a luau for members of congress last night and Gibbs was one of the warm up acts.
It was just like a carnival. You know, you get three softballs to hit a target. If you hit it, you win. But unlike a carnival there were no velvet Elvis paintings to win and everyone had teeth.
Regardless, four reporters took Gibbs up on the invitation and two of them were successful. The Associated Press' Mike Fuller went one for three putting Gibbs in the tank on his final throw. "Bam. Success. Down goes Gibbs," Fuller said.
---
Follow Stories Like This
Get the Monitor stories you care about delivered to your inbox.