Church has "Saturday night special" service for gun owners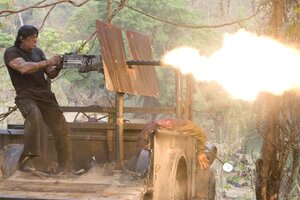 NEWSCOM/FILE
It would be fair to call it unconventional. Not every pastor encourages his or her flock to show up to church packing heat. Or for that matter, participate in a raffle for a big gun giveaway during the service. But not every pastor is Ken Pagano of the New Bethel Church in Louisville, Kentucky.
Pagano likes guns. He likes guns so much that he asked his parishioners to come to church this evening armed like Sylvester Stallone in Rambo (.50 caliber machine gun optional).
In all seriousness, Pagano did hold an "open carry celebration" tonight at his church. That meant if you owned a gun you could bring it to the service (provided it was unloaded) as part of an effort, he says, to promote responsible gun ownership and firearms safety.
About 200 people took him up on the invitation. It wasn't mandatory to have a gun to get in. In fact, according to the church website, you didn't even have to believe in God. The only requirement was to be a supporter of the First and Second Amendments.
"We are wanting to send a message that there are legal, civil, intelligent and law-abiding citizens who also own guns," Pagano said in welcoming the attendees.
"If it were not for a deep-seated belief in the right to bear arms, this country would not be here today," he said.
This was an oft-repeated message for Pagano. He's been fielding media requests from all over the world since word of the service became widespread earlier this month. All appearing to have the same question: What are you doing?
"As a Christian, I believe, and as an American this country was founded on the deep-seated belief in God and firearms -- without which we wouldn't be here today," Pagano told FOX News earlier this week. "There is nothing illogical nor immoral about being a God-fearer and a decent community-minded individual who believes in rights to bear arms and use firearms for self-defense if necessary or just for sporting purposes."
---