Greenpeace scales Mt Rushmore - issues challenge to Obama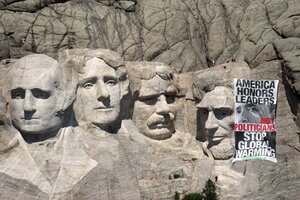 How does President Obama get his head included on Mt. Rushmore? Greenpeace says they've figured it out. They just went about it in an interesting (and illegal) way this morning.
Of course, the Constitution allows for the right to peacefully assemble. But when you peacefully assemble in a restricted area on top of a National Memorial, that's another story.
Something tell us that maybe Greenpeace wasn't that concerned with the legal ramifications of the stunt they pulled today -- a stunt which began with a number of their activists climbing to the top of Mt. Rushmore and then unfurling a whopping 2,300 square-foot banner all the while Twittering and streaming the video live on their website.
What'd they get out of it? A dozen arrests. But also massive media exposure for one of their top issues: global warming (they're against it).
So early this morning, members of the environmental group climbed atop the 5,700 foot mountain and at exactly 10:00am, unfurled a sign which read, "America honors leaders not politicians: stop global warming."
The National Park Service disagreed with the addition to the memorial and took it down -- although the sign managed to stay up there for a good hour before it was removed.
Challenge to President Obama
At least 12 members of the group have been arrested so far. And as you would probably guess, they're not issuing apologies. Anything but. They're throwing down the gauntlet -- to President Obama.
---