Air Force One flyover fiasco - private emails compare it to Three Stooges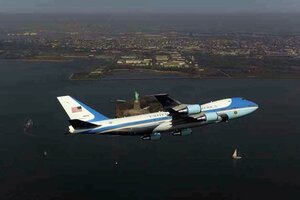 NEWSCOM
Appearing to want to string out this story as long as possible, the Air Force released more photos on Friday of the infamous Air Force One flyover of the Statue of Liberty that panicked thousands of New Yorkers in April.
Adding to the continuing public relations fiasco, emails written about the event (before and after) have been released as a result of Freedom of Information Act requests by many news outlets.
Had the photographs and emails been released months ago, it would no longer be a news story prompting some to wonder if those who orchestrated the ill-fated mission have also been in charge of the continuing handling of the event.
Regardless, the emails between those involved in the screw-up show that they knew just how big of a mistake the flight was. Unfortunately, that understanding was recognized after the fact.
Before
Before the event, Col. Scott Turner, commander of the Presidential Airlift Group, appeared to be optimistic about the flight even providing a cheerful weather forecast in an email to George Mulligan, the deputy director of the White House Military Office.
"So far we appear to be on track for our photo shoot around the Statue of Liberty on Monday," he writes. "Wx looks like it will cooperate and the FAA has aligned 'all the stars' to protect the airspace for us."
Just to be sure nothing could go wrong, Turner asks Mulligan, "Do you have any issues/reservations, whatsover?"
---