Palin speaks at NRA event -- receives a bunch of awards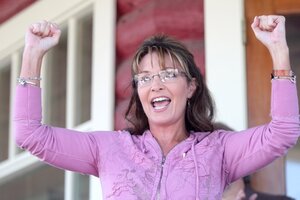 JOHN WAGNER/ FAIRBANKS DAILY NEWS-MINER/ AP/ FILE
Not enough Sarah Palin news for you over the weekend? Well, here's another...
The former governor of Alaska spoke at a National Rifle Association dinner on Saturday night in Anchorage. Few details are available about the speech itself, except the topic was on the Second Amendment -- something she, presumably, remains in favor of as the NRA branded her remarks "stirring."
NRA president Ronald Schmeits and executive vice president Wayne LaPierre joined Palin and husband Todd at the dinner, where she reportedly received numerous awards including an NRA Benefactor Life Membership and a Gold Medal Award of Merit for the Promotion of Gun Collecting.
It's not the first time Palin has received commendation from the NRA. You'll recall that a few months ago she was presented a special M4-like assault rifle. The custom-made, all-white AR-15 dubbed the "Alaskan Hunter" was presented to Palin in May.
Less than a month ago, Palin signed a guns rights bill to much fanfare in Fairbanks where she appeared on the "Firearms Friday" radio talk show. Rocker Ted Nugent dialed in and "told Palin from his home in Michigan that he was firing up the grill to cook up some Alaska black bear backstrap in her honor."
---