Hey it's the president's birthday (wherever he was born)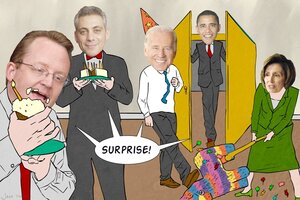 Jake Turcotte/AP photos
OK. OK. It's not the Lou Dobbs show. We're not part of the birther movement...
President Obama turns 48 today. And to celebrate, the president is having lunch with a bunch of Democratic senators. Sound boring? Pshaw.... Come on, Tom Harkin might be there.
Where? We don't know. All we know is it won't be at Chuck E. Cheese. "[It] was booked," laughed White House Press Secretary Robert Gibbs before getting pummeled at yesterday's press briefing.
They might want to head over to Z-Burger in Washington. To celebrate the president's big day, they're not only giving away free hamburgers and birthday cake over the lunch break but they're unveiling an "Obama burger" as well.
And we know how much you really appreciate it whenever we report that President Obama eats a hamburger.
What else is he going to do? Dunno. Gibbs hasn't said yet.
What about presents? Some in the media are suggesting gifts for the POTUS. Eric Yates at the San Diego News Network says it's time to toss the "frumpy" jeans.
---