Lou Holtz for Congress? What about that Hitler comment though?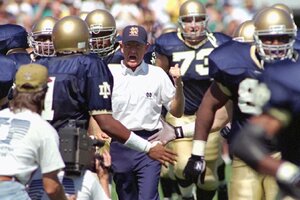 NEWSCOM
He was a great coach -- a Hall of Fame coach. And he's usually fun to watch on ESPN. The question is, can he win a seat in the US Congress?
That's what former Notre Dame coach Lou Holtz is thinking about. Holtz is considering running for the seat currently held by Suzanne Kosmas, a Democrat in Central Florida.
Certainly it wouldn't be the first time a coach has moved from college football to the halls of Congress. Former Nebraska Cornhuskers head coach Tom Osborne served in Congress for six years following his remarkable record on the football field.
One sports reporter in Florida thinks a Holtz victory is in the bag. "If he does run, Kosmas probably has as much a shot at beating Holtz as Baylor had at beating Notre Dame during the years Holtz coached the Irish. It might not be pretty," writes Todd Wright.
It might not be pretty. But for a different reason than the sportswriter thinks. After all, the more you're on the record, the more of a trail you leave. And Holtz has been on the record a lot.
---