Glenn Beck, anti-communist art critic?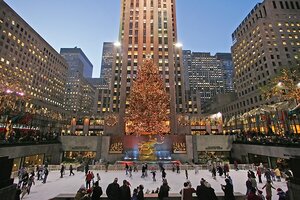 Newscom
Let no one call Glenn Beck a one-trick pony.
Over the past few years, Beck has worn many hats, only a few of them constructed from tin foil: Ardent opponent of President Barack Obama. Pal of Palin. High-pitched radio host nonpareil. Notoriously emotional prognosticator. Best-selling author. Self-described Libertarian. Leader of the crusade against ACORN.
Now, Glenn Beck is an art critic. Last night on Fox News, Beck launched a lengthy and rambling investigation of the "communist" art splayed across the face of Rockefeller Center in New York City. (Video below.) In short order, he went on to accuse John D. Rockefeller, whose family developed the plaza, of supporting communism and fascism. (Apparently one can believe in both at once.)
In case you don't watch a lot of television, let us sketch this out a little for you. Rockefeller Center is home to MSNBC, which airs "The Rachel Maddow Show" and "Countdown with Keith Olbermann." Olbermann and Maddow are progressives. Beck is not. By questioning the decoration of the plaza -- a major New York City landmark, beloved by tourists of all political stripes -- he is also questioning the mores of the men and women who work nearby.
---