AP photo of dying Marine draws fire from Pentagon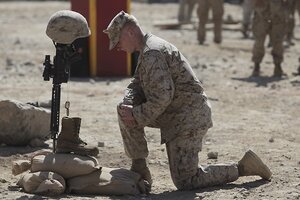 Julie Jacobson/AP
Defense Secretary Robert Gates has condemned the Associated Press decision to release a photograph of a US Marine wounded during a battle in the Helmand province of southern Afghanistan. The Marine, Lance Cpl. Joshua M. Bernard of New Portland, Maine, was struck by a rocket-propelled grenade in a Taliban ambush on Aug. 14. He later died of his wounds.
In the AP photograph, Bernard is pictured lying on his side on a sandy slope. The image is blurry, but Bernard appears to be bleeding; two other Marines stand over him, attending to his wounds. The caption, titled "Afghanistan Death of a Marine," identifies the location as the village of Dahaneh. The photographer is Julie Jacobson, who also took the image at the top of this post. The AP reports that Bernard later died on the operating table at a nearby field hospital.
"AP journalists document world events every day. Afghanistan is no exception," Santiago Lyon, the wire services' director of photography, said in a statement. "We feel it is our journalistic duty to show the reality of the war there, however unpleasant and brutal that sometimes is." In a story on the ambush, the AP reported that Bernard's death came during the "deadliest month of the deadliest year since the U.S.-led invasion of Afghanistan in 2001.
---