Blagojevich: Someone is lying, and it's totally not me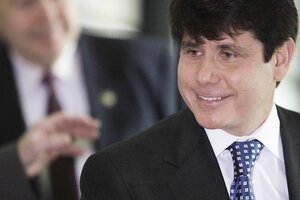 M. Spencer Green/AP
Beleaguered former Illinois governor and Elvis impersonator Rod Blagojevich took to the airwaves today to promote a new book called "The Governor," which Blago says will prove his innocence. It's going to have to one heck of a book.
Over the past year, Blagojevich has been charged with 16 counts of corruption, including wire fraud, extortion conspiracy, racketeering conspiracy, attempted extortion, and making false statements to federal agents.
Federal prosecutors allege that Blago tried to sell the US Senate seat vacated by President Obama, demanded the firing of Chicago Tribune editorial writers in exchange for state help with the sale of Wrigley Field, and engaged in pay-to-play corruption schemes.
But speaking on the set of CBS's "The Early Show" Tuesday (video below), Blagojevich denied wrongdoing, instead flipping the blame on his accusers. "Not only does he have it all wrong, but [the allegations are] a mutilation of the truth," Blago said of US Attorney Patrick Fitzgerald, who brought the initial charges against the governor.
---