Obama joins 3 other US presidents who have won the Nobel Peace Prize
(Read article summary)
Barack Obama joins three other US presidents who have won the Nobel Peace Prize.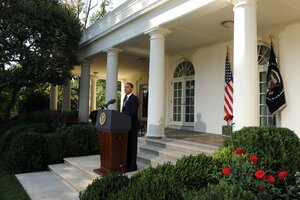 NEWSCOM
Barack Obama is not the only one. The other US Presidents who have won the Nobel Peace Prize are, in chronological order, Theodore Roosevelt, Woodrow Wilson, and Jimmy Carter. (You can watch President Obama's remarks here).
Theodore Roosevelt was the first American to won a Nobel in any category. His Peace Prize was for his work in helping broker the end of the Russo-Japanese War in 1905.
Normally, a US Secretary of State would have handled such diplomatic chores. But Roosevelt's Secretary of State, John Hay, died in July 1905, and the forceful TR took charge of the duties himself.
Roosevelt invited diplomats from the warring parties to his home at Sagamore Hill on Long Island to begin negotiations. Both sides were looking for peace -- the Russians had suffered military setbacks, and the Japanese were in financial trouble.
Further talks took place at the US Naval Base at Portsmouth, New Hampshire. The Treaty of Portsmouth was signed on September 5, 1905.
Roosevelt did not pick up his Nobel medal, or his prize money, until 1910. He said he did not feel right accepting them while in office.
Woodrow Wilson won the Nobel Peace Prize in 1919 for his services in establishing the League of Nations.
---