Sarah Palin on Oprah Winfrey's show? You betcha'
(Read article summary)
Can Sarah Palin see Oprah Winfrey from her house? We don't know, but she's appearing on her show.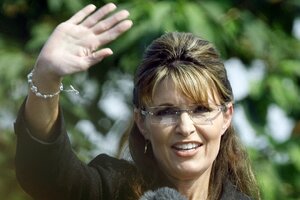 AL GRILLO/ AP / FILE
Sarah Palin on Oprah Winfrey? You betcha'.
Former Alaska Governor Sarah Palin is headed for the Oprah Winfrey show next month. Harpo productions proudly announced this morning that this will not only be the "very first time" the two women will meet but that this marks Palin's "first interview to discuss her upcoming book."
Hold it. Wasn't Palin supposed to appear on Oprah last year? Yep. And Palin did the unthinkable. She turned Oprah down. After details emerged that Palin signed a book deal, Oprah's people and Palin's people started talking again.
Free publicity
There's no better place to hawk a book than on Oprah. Not that Palin really needs any extra buzz for "Going Rogue." A month away from being released, it has been a best seller for two weeks on the strength of advanced sales.
But Palin's not going to turn the publicity down. Go on Oprah on Nov. 16 and then release the book on Nov. 17? That's a recipe for wall-to-wall coverage.
And it won't hurt Winfrey, who has seen her ratings slide a bit.
Slow day!
Yes, we can hear many of you already: "This must be a slow news day if you're writing about Sarah Palin going on the Oprah Winfrey show!" and "Who cares? She's not a governor anymore!" (We love those comments because, well, they just never get old.)
---
Follow Stories Like This
Get the Monitor stories you care about delivered to your inbox.