Obama family portrait released (First Dog banned from photo)
(Read article summary)
The official Obama family portrait was released today by the White House.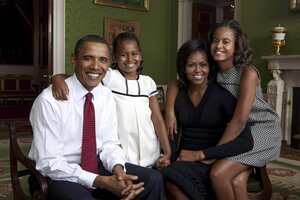 Annie Leibovitz / Associated Press
We don't want to call it a national travesty or anything, but where's Bo? The Obama family portrait was released today and the First Dog is missing!
The family portrait itself is beautiful. It's the all-American family. The President of the United States, the First Lady, presidential daughters Sasha and Malia all looking happy, healthy and relaxed in the Green Room of the White House.
But someone is conspicuously absent. No, we didn't expect to see Joe Biden in the background making bunny ears. But we did think that the family dog would make the cut.
After all, when you're the First Family the photographer comes to you. You don't have to load the kids up in a station wagon and head to Sears. You just put on some clothes, ramble down the hall and pose. It's not a lot of effort.
And when you've got a photographer like the famed Annie Liebovitz doing the shoot? You're golden.
---