Gavin Newsom quits California governor's race - Moonbeam stands alone
(Read article summary)
San Francisco Mayor Gavin Newsom on Friday said that he would not be running for governor of the state of California.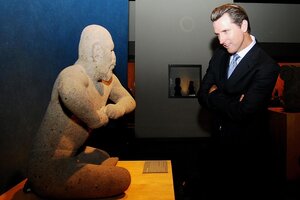 NEWSCOM
Could it be that Republicans are just so unbelievably popular in California that no Democrats dare run for the office of governor?
Well, no. But with today's announcement that San Francisco Mayor Gavin Newsom is withdrawing from the race, it drops the number of Democrats running for the office to zero.
That's not to say there's no interest. It just means that former Governor Jerry Brown will have one fewer Democratic candidate to face in next year's primary.
It's the family...
Newsom sounded like Brett Favre (minus the crying) in announcing his retirement from seeking the state's top job. He used the familiar "spending more time with his family" refrain in his statement.
"With a young family and responsibilities at city hall, I have found it impossible to commit the time required to complete this effort the way it needs to -- and should be -- done," he said. "This is not an easy decision. But it is one made with the best intentions for my wife, my daughter, the residents of the city and county of San Francisco, and California Democrats."
Bleak prospects
There's the family angle and then there's the "I'm going to lose so find a way to escape now without looking bad" angle. Jerry Brown is clobbering him in early polls. A recent California Field Poll showed the unannounced Brown leading by 20 points (47 percent to 27 percent).
---