New book: Bill's presence kept Hillary Clinton off the ticket in 2008
(Read article summary)
Washington's top power couple has always been dramatic. Today, the question is whether former President Clinton helps or hinders his wife's career.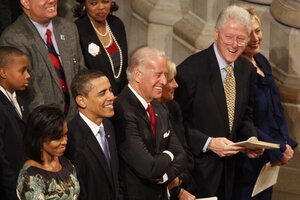 Charles Dharapak/AP/File
For Secretary of State Hillary Rodham Clinton, the shadow of a prominent husband hasn't been so easy to shake.
The latest example of former President Bill Clinton's impact on his wife's career: She might have been Barack Obama's vice president if not for him.
In his new memoir, David Plouffe, Mr. Obama's former campaign manager, says that the president-elect seriously considered his former rival to be his No. 2 in the White House, but ultimately decided against it because of Mr. Clinton.
Obama, Mr. Plouffe says, explained his decision saying, "I think Bill may be too big a complication. If I picked her, my concern is that there would be more than two of us in the relationship."
This is not the first example of the "Bill effect" for Mrs. Clinton.
Her nomination to her current post of secretary of State hinged on negotiations with Mr. Clinton over his speaking engagements and international fundraising for his William J. Clinton Foundation. She was formally nominated only after Mr. Clinton turned over information on more than 200,000 donors to his foundation and agreed to conditions on his charity work.
---