Sarah Palin pleased that Scozzafava drops out of New York race
(Read article summary)
Sarah Palin thanked Dede Scozzafava for dropping out of New York's 23rd District House race today.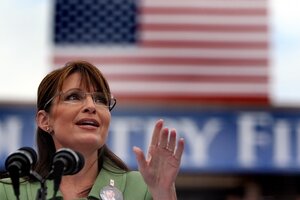 NEWSCOM/FILE
Do you credit Sarah Palin for Dede Scozzafava's decision to drop out of the House special election race in New York's 23rd District?
As we reported earlier, Scozzafava, the Republican candidate, withdrew from the race today. This means Conservative Party candidate Doug Hoffman has a much clearer field in front of him. Now the only thing separating him from a seat in the US Congress is Democratic candidate Bill Owens.
One thing's for sure -- you can't thank the National Republican Congressional Committee. They were behind Scozzafava all the way. While conservative stars like Sarah Palin, Glenn Beck, and Rush Limbaugh proudly bucked the GOP machine and backed Hoffman.
Whomever you credit, Scozzafava's free-fall in the polls was staggering. At the beginning of October, the Republican led all three candidates with 35 percent of the vote. Not even a month later, she dropped to just 20 percent.
---